Friends of Bolivia are proud to present:
A Bolivian Baroque Christmas: Early Music from the New World
at the Church of the Immaculate Conception,
Farm Street entrance – London, W1K 3AH
(Fri 17 December 2021 at 7.30PM)
In Latin America, movement and dance is at the centre of the celebration of Christmas. It is midsummer there, and everyone is in the streets, singing, dancing, playing instruments for the entire twelve days of Christmas. The different ethnicities intermingle, and the music combines indigenous native traditions with the influences of those who came from elsewhere, Africa and Europe. We present polyphonic and solo works for one to four voices, accompanied by theorbo and guitar. Most are in Spanish, but some are in traditional local languages such as Quechua and Guarani.
Much of the music in the concert was created in the Jesuit Missions which were established among the Chiquitos (1691 – 1767) and the Moxeños (1680 – 1767), in the Amazonian forest of eastern Bolivia. The Jesuits encouraged development of the musical training of the indigenous population, as composers as well as performers, and thousands of manuscripts have only been discovered in the last decades and are being edited and performed for the first time in more than 200 years.
The concert (no interval) will be followed by a reception where wine, refreshments and Bolivian snacks will be on sale, as well as Bolivian gifts and crafts. All profits to our charitable projects in Bolivia. Concert held at the Church of the Immaculate Conception on Farm Street by kind permission of Fr Dominic Robinson SJ, Parish Priest.
EL PARNASO HYSPANO (Early Music Ensemble)
Singers:
Kate Smith (soprano),
Verónica Chacón (alto),
Rafael Montero (tenor and founder),
John Sloboda (bass),
Toby Carr (theorbo/guitar),
Robert Gutierrez (percussion and wind).
EL PARNASO HYSPANO is an international chamber group of singers and instrumentalists dedicated to the performance of early Hispanic music, ranging from the medieval to the baroque and early classical.
---
Friends of Bolivia ~ Our Mission
"to help improve the living conditions of Bolivia's poorest and neediest, particularly women, children and elderly people."
"ayudar a mejorar las condiciones de vida de la gente más pobre y necesitada de Bolivia, especialmente las mujeres, niños y ancianos."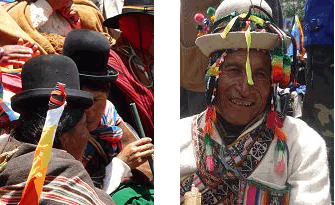 Friends of Bolivia is a UK based charity dedicated to improving the living conditions of Bolivia's most vulnerable people by providing financial assistance to charities and NGOs working in the country.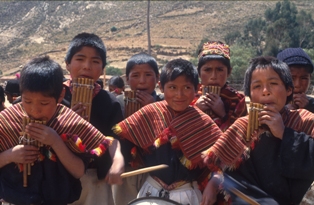 ~ Thank you for visiting the Friends of Bolivia website ~